Overview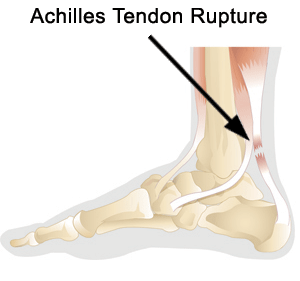 Achilles tendinitis is a common condition that causes pain along the back of the leg near the heel. The Achilles tendon is the largest tendon in the body. It connects your calf muscles to your heel bone and is used when you walk, run, and jump. Although the Achilles tendon can withstand great stresses from running and jumping, it is also prone to tendonitis, a condition associated with overuse and degeneration. Tendons become inflamed for a variety of reasons, and the action of pulling the muscle becomes irritating. If the normal, smooth gliding motion of the tendon is impaired, the tendon will become inflamed and movement will become painful. This is called tendonitis, meaning inflammation of the tendon. Achilles tendonitis is typically not related to a specific injury. The problem results from repetitive stress to the tendon. This often happens when we push our bodies to do too much, too soon, but other factors can make it more likely to develop tendinitis, including: a sudden increase in the amount or intensity of exercise activity, tight calf muscles, or a bone spur that has developed where the tendon attaches to the heel bone.
Causes
Achilles tendonitis is an overuse injury. Too much too soon is the common cause of overuse injuries, however other factors can contribute to developing the condition. An increase in activity, either distance, speed or a sudden change to running up hills. As a rule of thumb distance runners should increase their mileage by no more than 10% per week. A change of footwear or training surface for example suddenly running on soft sand can cause the heel to drop lower than normal making the tendon stretch further than it is used to. Weak calf muscles can tighten or go into partial spasm which again increases the strain on the achilles tendon by shortening the muscle. Running up hills - the achilles tendon has to stretch more than normal on every stride. This is fine for a while but will mean the tendon will fatigue sooner than normal. Overpronation or feet which roll in when running can place an increased strain on the achilles tendon. As the foot rolls in (flattens) the lower leg also rotates inwards which places twisting stresses on the tendon. Wearing high heels constantly shortens the tendon and calf muscles. When exercising in flat running shoes, the tendon is stretched beyond its normal range which places an abnormal strain on the tendon.
Symptoms
Achilles tendonitis and tendinopathy present as pain in the Achilles tendon, usually several centimeters above where it inserts on the heel. In some patients, pain and tendon damage are primarily at the insertion to the heel bone. There may be swelling and/or thickening of the tendon. Bending at the ankle, walking, jumping, and running are often painful with this condition.
Diagnosis
If you think you might have Achilles tendonitis, check in with your doctor before it gets any worse. Your doc will ask about the activities you've been doing and will examine your leg, foot, ankle, and knee for range of motion. If your pain is more severe, the doctor may also make sure you haven't ruptured (torn) your Achilles tendon. To check this, the doc might have you lie face down and bend your knee while he or she presses on your calf muscles to see if your foot flexes. Any flexing of the foot means the tendon is at least partly intact. It's possible that the doctor might also order an X-ray or MRI scan of your foot and leg to check for fractures, partial tears of the tendon, or signs of a condition that might get worse. Foot and ankle pain also might be a sign of other overuse injuries that can cause foot and heel pain, like plantar fasciitis and Sever's disease. If you also have any problems like these, they also need to be treated.
Nonsurgical Treatment
The recommended treatment for Achilles tendinitis consists of icing, gentle stretching, and modifying or limiting activity. Nonsteroidal anti-inflammatory medications (NSAIDs), such as ibuprofen or aspirin, can reduce pain and swelling. Physical therapy and the use of an orthotic (heel lift) can also be helpful. For chronic cases where tendinosis is evident and other methods of treatment have failed, surgery may be recommended to remove and repair the damaged tissue.
Surgical Treatment
There are two types of Achilles repair surgery for tendonitis (inflammation of the Achilles Tendon), if nonsurgical treatments aren't effective. Gastrocnemius recession - The orthopaedic surgeon lengthens the calf muscles to reduce stress on your Achilles tendon. D?bridement and repair - During this procedure, the surgeon removes the damaged part of the Achilles tendon and repairs the remaining tendon with sutures or stitches. Debridement is done when the tendon has less than 50% damage.
Prevention
Appropriately warm up and stretch before practice or competition. Allow time for adequate rest and recovery between practices and competition. Maintain appropriate conditioning, Ankle and leg flexibility, Muscle strength and endurance, Cardiovascular fitness. Use proper technique. To help prevent recurrence, taping, protective strapping, or an adhesive bandage may be recommended for several weeks after healing is complete.